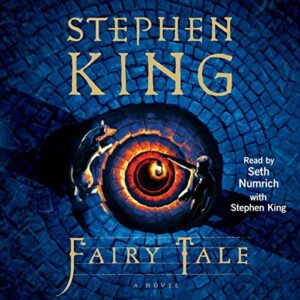 In this month's Writer's Book Club, I review Stephen King's novel, Fairy Tale, read by Seth Numrich, who does a terrific job narrating the audiobook. It's now one of my top ten favorite King books.
In Fairy Tale, Charlie Reade is seven when a drunk driver kills his mother. His father, George, already a heavy drinker, drowns his sorrow in alcohol.
Ten years later, Charlie promises the universe he'll do anything to save George from destruction. The next day, George's colleague takes him to AA and puts him on the road to recovery.
Soon after, Charlie hears a dog howling from the backyard of the neighborhood's supposedly haunted house. The crotchety old homeowner, Mr. Bowditch, has fallen off a ladder and fractured his leg. Charlie calls 9-1-1 and is lauded as a hero, though he tells everyone it was the dog, Radar, who saved Mr. Bowditch. Charlie then believes he must help care for the old man to repay the universe for saving his father.
Charlie discovers a cassette tape Mr. Bowditch made. The tape reveals the secret of the mysterious shed in the backyard (fun fact: Stephen King plays Mr. Bowditch on this tape). The shed is the gateway to a magical place with a fountain of youth. Charlie decides to take the elderly and ailing Radar there to save his life.
What I liked about Fairy Tale
I liked Charlie and his relationships with Mr. Bowditch and Radar. Charlie and the secondary characters are well-developed. I also liked how this began as a tale of friendship and developed into a magical quest. I thoroughly enjoyed how King wove aspects of well-known fairy tales throughout this book. It's incredibly clever.
Issues I had with the book
At times, especially in the book's beginning, Charlie uses words a seventeen-year-old wouldn't use (the shank of a dog, for instance). He also refers to cultural things I don't think he'd be familiar with. However, this only happened a few times and didn't ruin the book for me.
I also thought the antagonistic characters weren't as well-developed and little two-dimensional. Of course, that's true of fairy tales.
I wanted more (which isn't necessarily a bad thing)
Spoiler alert: I wanted Charlie to reunite with the people of the magical world of Empis and introduce his father to them. I understand why Charlie didn't want to do that, but I was missing that emotional ending.
How this affected my writing
Being over 60, I know I have to keep a close eye on my word choice when writing my books from a teenager's point of view.
Additionally, I love the idea of taking stories we all know and interweaving them into a new story that follows that genre's parameters. Fairy Tale not only encompasses many fairy tales (I won't tell you which ones, that would spoil the book), but is itself a fairy tale. It would be fun to take an old and familiar story (or stories) and incorporate it into a new story.
I give Fairy Tale  👍🏻 👍🏻 👍🏻 👍🏻 stars for creativity and a fun ride.
Next month's book
A New York Times "Ten Best Books of 2022" winner, Demon Copperhead by Barbara Kingsolver, is inspired by Charles Dickens's David Copperfield. Barbara Kingsolver is one of my favorite authors, though it's been years since I've read anything written by her.
I've just started to listen to this book, narrated by Charlie Thurston, and am, once again, enthralled by Kingsolver's beautiful writing.
For Readers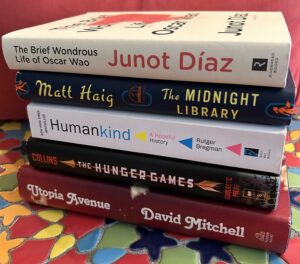 Check out my For Readers blog for more of my book reviews and other book discussions!
The Devil Particle Book Release Party!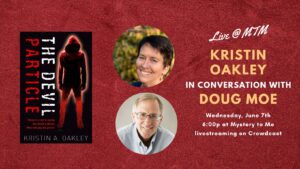 Wednesday, June 7, 2023, 6:00 p.m. –The Devil Particle Book Release Party at Mystery to Me Bookstore, Monroe Street, Madison, WI. This event is free and open to the public, but space is limited, so click here to reserve your spot.
The party will also be live-streamed if you want to join us remotely.