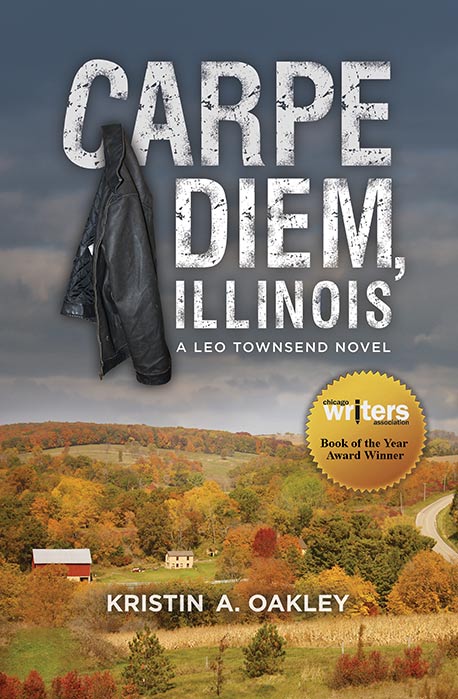 Introducing Leo
For decades, the small town of Carpe Diem, Illinois has quietly unschooled its children, eschewing tests and classrooms for real-life experiences. Now, long-smoldering political feuds – and deep personal secrets – threaten to explode. When her mother is hospitalized in Carpe Diem after an auto accident, teenager Tali Shaw, the daughter of a powerful state senator, finds herself at the heart of a vicious conspiracy to bring Carpe Diem down. Can prize-winning Chicago Examiner reporter Leo Townsend overcome his own demons and expose those behind the scheme before it's too late? And when the truth is finally revealed, can Carpe Diem ever be the same?
Reviews:
"Great book, good writing, excellent characters and plot. I couldn't put it down. Totally recommend it for reading pleasure and to learn about a unique method of education that rules the story line. I can't wait to read the next Leo Townsend book. Kudos to author, Kristin Oakley. This former teacher gives Oakley five gold stars for her novel. Well done!" – Fran Orenstein
"I'm so glad I took Leo Townsend on vacation with me! What a fantastic novel and mystery to dive into on the beach. I couldn't wait to get back to turn the next page. What I didn't expect was the "unschooling" story within – what a pleasant surprise. I'm a teacher and therefore always seeking to continue learning myself. The idea of students pursuing their passions, gaining hands on experience and ultimately become masters of a chosen craft really had me exploring my own teaching. Carpe Diem was completely entertaining and thought provoking. I can't wait to see where Leo hangs his jacket next." – Corina Rogers
In Carpe Diem, Illinois, Kristin Oakley weaves a tale of local political intrigue into a fascinating lesson in unschooling. Through the eyes of broken Chicago reporter Leo Townsend we begin to see the secrets that lie behind the fictional commune-like town of the title where there are no schools and the children are mostly left to their own devices. Ultimately, this satisfying debut novel teaches us that if we open our eyes and our minds, there is much to learn and those mysteries to us are not so mysterious at all. –Randy Richardson, author of Cheeseland and Lost in the Ivy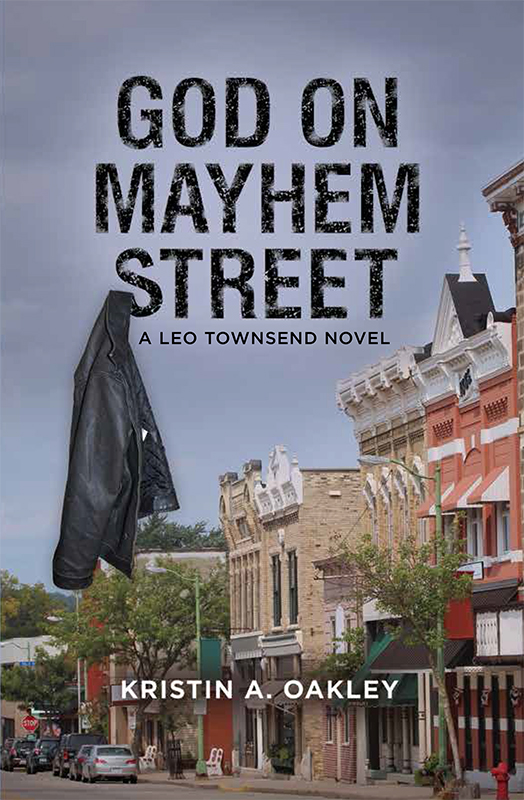 Leo's back!
Chicago Examiner reporter Leo Townsend has landed the interview of a lifetime with openly gay, front-running US presidential candidate Griffin Carlisle. But when Leo is forced to abandon the interview to rush to the side of his estranged father who has suffered a near-fatal heart attack, Leo's personal and professional worlds collide. When Griffin offers to visit the Townsend farm for an interview, secrets are exposed that jeopardize not just Leo's family, but an entire nation.
Reviews:
"Oakley's novel offers up the story of an investigative journalist finding his big break in a small town in Illinois that only homeschools its children. The procedural story — which features well-drawn characters and excellent plotting — gives readers a glimpse of the political history of Illinois as well as the modern day politics of education." – The BookLife Prize in Fiction
"Small town politics clash with gay rights and family issues in Kristin Oakley's God on Mayhem Street. A cleverly plotted and well-written tale about two brothers, their father, and the town bully who wants to drive them off their land, Oakley's sophomore novel will capture your interest and, more importantly, your heart. Well worth the read!" –Libby Fischer Hellman, author of 13 Compulsively Readable Thrillers
"Leo Townsend's homecoming is anything but sweet when he returns to his family's farmstead to bury his mother. In the ensuing days, secrets are unearthed, enemies are exposed, and a gay political figure divides the town. Oakley's created a story jam-packed with twists, but one that also reminds us of the importance of compassion." –K. J. Klemme, author of Tourist Trapped