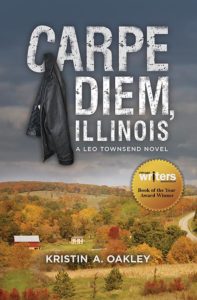 Carpe Diem, Illinois, is the winner of The Chicago Writers Association 2014 Book of the Year Award for non-traditionally published fiction, a finalist in the Independent Author Network 2015 Book of the Year, and a runner-up in the 2016 Shelf Unbound Competition for Best Indie Book. 
Order your copy today through Amazon, Little Creek Press, or at Mystery to Me Bookstore in Madison, WI.
The book begins:
At the corner of Tiger Whip Road and Highway 20, Patrick Holden slumped over the handle bars of his idling Harley. The motorcycle's black leather seat and saddle bags were creased with age, the twenty-year-old fenders dusty but barely scarred. Patrick hadn't aged as well as his bike. Years of fighting school administrators, education tsars, and a weird mix of politicians had creased more than his outward appearance; it had creased his soul.
The motorcycle's headlight illuminated the decaying facade of an abandoned shed. Swirling farm dust mixed with dry hay made Patrick cough, leaving a gritty taste in his mouth. He ran his gloved fingers over the neat stitches holding the cycle's seat together and regretted the late night meeting. 
He had been persuasive, articulate, and even-tempered but the meeting had been a disaster. Illinois State Senator Christopher Shaw, in all his patronizing benevolence, had refused to see the obvious dangers of his legislation. Instead, threatened by reason, the senator stormed out of his office. When the door slammed, Patrick realized he was no longer sitting. His skinny, six-foot frame leaned over the senator's wooden desk, his hands splayed on the maple, leaving damp prints. 
Fun facts:
The corner of Tiger Whip Road and Highway 20 is a real location — just a few miles east of Stockton, Illinois.
The setting of Carpe Diem, Illinois is loosely based upon Stars Hollow in the television show "The Gilmore Girls" and quaint Woodstock, Illinois.
In the first few drafts of Carpe Diem, Illinois, Raegan Colyer was a man named Richard Stebbins.
The unschooling lifestyle in the town of Carpe Diem is based upon Kristin's experiences unschooling her daughters, Caitlin and Jessica. The girls first entered a traditional school at 15 when they started classes at Rock Valley College in Rockford, IL. Caitlin, now 25, graduated cum laude with a music business degree from Drake University in 2013 and is a server and assistant manager at The Melting Pot restaurant saving money to pursue a second degree in music therapy. Jessica, 21, is in her senior year at Drake University as a drawing major and is considering a career as a costumer designer.