Book releases are joyous events, much like the birth of a baby. Authors spend six months to a year or more preparing for the release of their book. This includes scheduling television, radio, and podcast interviews, drafting press releases, planning book release parties and in-person and online book tours at bookshops, libraries, organizations, and much more.
There's the website to update, email blasts to write and send out, giveaways and contests to organize, and appearances to make at conferences and other events.
Imagine planning all this last year only to have a pandemic cancel everything. It's heartbreaking.
Seven Featured Authors
With that in mind, I'm featuring seven authors who released their books this year during the pandemic. I've included a wide variety of genres from cozy mysteries to fantasy to inspirational nonfiction. If something strikes your fancy, please buy a book and spread the word.
Christine DeSmet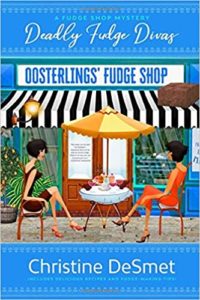 Award-winning Author, Screenwriter, and Writing Instructor Christine DeSmet released Deadly Fudge Divas, the fourth book in her Fudge Shop Mysteries Series on March 2nd of this year.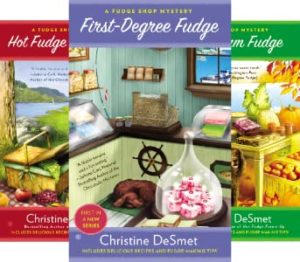 Christine was my first writing instructor and was instrumental in helping me craft Carpe Diem, Illinois. Her newest cozy mystery is described this way: "A taste of trouble is in the air when a group of well-heeled, fudge-loving women descend on Ava Oosterling's newly acquired and lovingly refurbished bed & breakfast inn for a chocolate lovers' getaway. When one of the women turns up dead–and Ava's grandfather is a prime suspect–Ava plunges into the thick of a murder case stickier than her candy store's line of Fairy Tale fudge flavors and the chocolate facials the women adore at the local spa."
Bill Mathis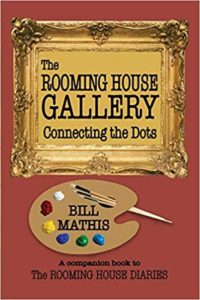 Award-winning Author Bill Mathis released his LGBT novel The Rooming House Gallery: Connecting the Dots in May. Bill is the a fellow Chicago Writers Association member and winner of the Chicago Writers Association First Chapter Contest with his incredible first chapter of "Revenge is Necessary." The blurb for his latest book is: "Josh and Andres unexpectedly inherit an old rooming house in Chicago. Each discovers they have a long and deep history with the place. Thrilled to have a home of their own, plus a place for Andres to make and sell his art, the two are challenged to turn the place into a community art center. The challenge becomes more personal as each deals with their own backgrounds, family issues and differing personal interests."
Tricia D. Wagner
Tricia D. Wagner released her second fairy tale fantasy novelette See of Glass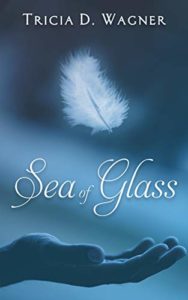 earlier this month. Tricia and I share many writing retreat memories. Her newest release features "Twelve-year-old Teo (who) spends his days helping his drunken papá hang windows on shanties along Baja's wild coast. When an old angler presses Teo to seek a goddess—the Sea Angel—for rescue, Teo sets out to test whether help can be found at the hands of the gods. To learn the truth, he must look beyond legends and summon the courage to challenge his papá. And to reach freedom, he must tap his own strength, hidden beneath wounds laid by glass."
Jessica Cage
I had the privilege of meeting USA Today Bestselling Author Jessica Cage before she made it big. We shared a table under the Chicago Writers Association Tent during the Printers Row Lit Fest five or six years ago. She mentioned that she was a single mom, working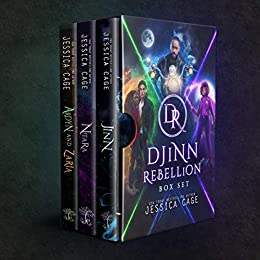 full time while writing and getting her MBA. Phew! At that time, we each had one book to our names. I now have 2, Jessica has 22. In May, Jessica released not one book but three — her Djinn Rebellion Boxed Set (Books 1-3): A Post-Apocalyptic Fantasy.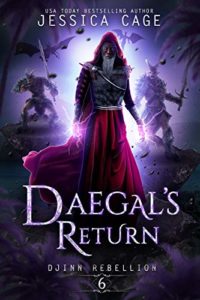 And then in June, she released Daegal's Return, the latest in her Djinn Rebellion series with this hook: "A baby on the way. A demon army. The World on the brink of apocalypse."
Elizabeth Wetmore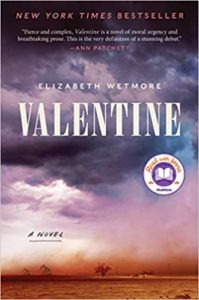 I haven't had the privilege of meeting Author Elizabeth Wetmore yet, but I am looking forward to meeting her at the Just Write! An Uncommon Writers Conference in Chicago next March when she'll be a keynote speaker. Elizabeth's debut book Valentine: A Novel became an instant New York Times Bestseller when it was released in March of this year. The book's description starts: "Mercy is hard in a place like this . . . It's February 1976, and Odessa, Texas, stands on the cusp of the next great oil boom. While the town's men embrace the coming prosperity, its women intimately know and fear the violence that always seems to follow."
Mary Lang Sollinger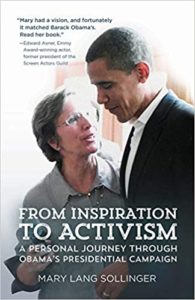 Mary Lang Sollinger and I met on the phone this past week to discuss all things audiobooks. A fellow Madisonian who owned a shop on State Street for thirty years, Mary became a political activist to give back to the Madison community. In her debut nonfiction book, From Inspiration to Activism: A Personal Journey through Obama's Presidential Campaign, "Mary Lang Sollinger offers a fascinating behind-the-scenes look at political canvassing and fundraising while following ordinary people doing extraordinary things for the love of our country. Mary's years of fundraising experience culminated in an incredible opportunity to host a fundraiser at her home with Senator Obama in the fall of 2007."
Dr. Cheryl E. Woodson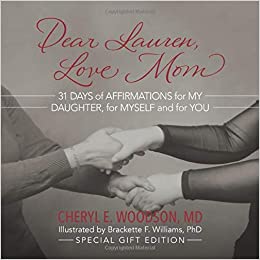 And finally, a new release from my good friend Dr. Cheryl E. Woodson, Dear Lauren, Love Mom: 31 Days of Affirmations for My Daughter, for Myself, and for You.The writings in this beautiful book gave me chills and moved me so much that I immediately bought two more books to give to my daughters. The beautiful photography by Brackette F. Williams, PhD is an added bonus.
If you're an author who's released a book this year (or have a release date later this year), be sure to let me know and I'll mention it in my next newsletter. If you're a reader, please check out this wonderful books and let me know what you think!
Where I'll be in 2021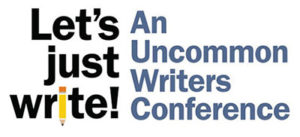 March 20-21, 2021 – Just Write! An Uncommon Writers Conference, Warwick Allerton Hotel, Chicago. I'm happy to say that this Chicago Writers Association conference is now open for registration! I'll be there to teach a workshop and host the live lit event and I'll meet Elizabeth Wetmore!