It's been over a month since my last newsletter. Honestly, with everything going on, I just wasn't feeling it. My creativity was nil. So, instead of trying to scrape something together, I pored myself into revising the latest version of The Devil Particle. I made good progress and Wednesday I sent the manuscript to my editor. But I've been missing you! How are you doing? What have you been up to?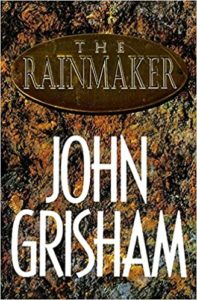 Read any good books lately? I've been on a re-reading kick, I suppose there's something comforting in it, like getting together with an old friend. I read Eleanor Oliphant is Completely Fine for a second time and liked it just as much this time around. My mom and I are also binging John Grisham. I re-read The Rainmaker and am reading The Firm for a third time. I'm going to follow that up with a John Grisham movie night.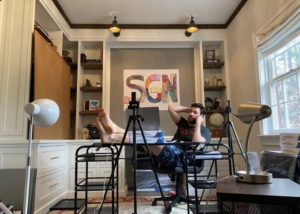 Are you binging any TV shows? My daughter and I watched all the episodes of You (so creepy, well written, and well acted), Ozark (unbelievable acting, particularly by Laura Linney), and Jack Ryan. I've got a thing for John Krasinski ever since we binged The Office. Be sure to watch his YouTube channel SGN–Some Good News. It's funny and poignant–what we need right now.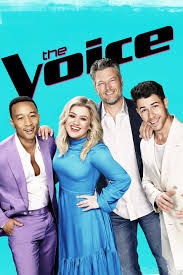 We're also watching The Blacklist with mixed reviews and have just started Fleabag (definitely NOT a kid show). On Tuesdays, we FaceTime with my other daughter and watch the latest episode of The Voice. It's the first time any of us has seen this reality show. We're really enjoying the interplay between the judges (Kelly Clarkson, John Legend, Nick Jonas, and Blake Shelton).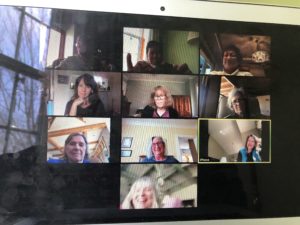 Have you been Zooming or otherwise connecting with family members? I've been Zooming with a group of gal pals most of whom live in Illinois (I live in Wisconsin) and one who's in LA. I'm hoping we keep this up even after all the craziness is over.
I also come from a family of game players so twice a week we Zoom to catch up and then play Jackbox.TV. And then there's the occasional online game of Ticket to Ride with friends.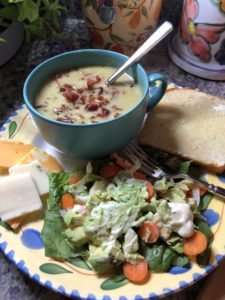 What about home, art, or craft projects? I think a lot of people are taking this time to paint a room or clean out a closet. With the weather changing, it's a good time to work in the garden. I've done some decluttering and this week I'll start a new oil painting.
And cooking. Last weekend, my daughter baked bread and I made a leek and bacon soup. For Easter we ordered brunch from Bassett Street Brunch Club and my daughter made chocolate crème brûlée for dessert. We've tried new pasta, fish, and stir fry recipes. It's been fun experimenting.
Spring is my favorite time of year and I've been taking advantage of the beautiful weather by walking through the neighborhood. My older daughter lives a mile down the road so we'll meet halfway. My younger daughter is on the front lines at Target, a little over two miles away, so I'll walk over to pick her up after her shift.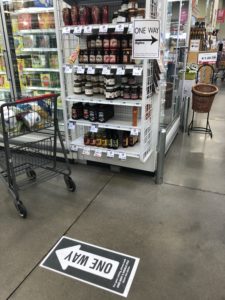 I've also begun documenting these crazy days. I snap photos of strange things, like the obstacle course at my local HyVee and their wayward signs (notice the one way signs are pointing in opposite directions). I jot down impressions, descriptions, and even my feelings (though I'm not much of a journaler).You might want to, too.
So, like you, I'm hanging in there. I'd love to hear from you and find out what you've been up to. Just contact me!
And I'd like to share my latest story. If you'd like a copy of the new and improved first chapter of The Devil Particle (a young adult dystopian novel), simply let me know.
Wishing you good health and happiness!