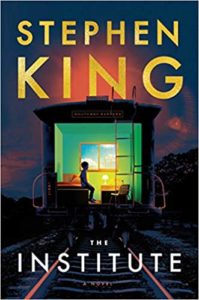 I just finished reading Stephen King's latest novel The Institute and it's now one of my favorite books by this master. The stakes are high in this tale of kidnapping, telepathy, and saving the world. The tension is palatable, the characters are well-developed, the imaginary world very realistic–it all works.
What's amazing about Mr. King's writing is that with little or no description, I immediately picture the characters as if I've known them for years.
Stephen King famously said, "What is writing? Writing is telepathy." This is true, particularly of King's writing. He cleverly implants images in his readers' minds. Some of which will stay with you for a very long time.
When I teach workshops at UW-Madison's Writers' Institute, Write-by-the-Lake, or the Chicago Writers Association's Let's Just Write! An Uncommon Writers Conference, I often mention Stephen King and encourage writers to read at least one of his books. Oftentimes, people tell me they don't like reading horror, but I point out that Mr. King has written excellent stories that have no demonic cats, depraved clowns, fans who torture novelists, or writers who attempt to murder their families.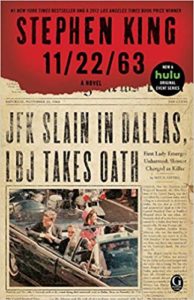 Another one of my favorite Stephen King novels is 11/22/63 which involves time-travel and no monsters. And, the novella Rita Hayworth and the Shawshank Redemption is horror-free. It was later made into a movie starring Tim Robbins and Morgan Freeman which was nominated for seven Academy Awards. Over 80 of King's books and short stories have been turned into films and/or made-for-TV movies and it's no wonder. My guess is they'll make The Institute into a movie, too.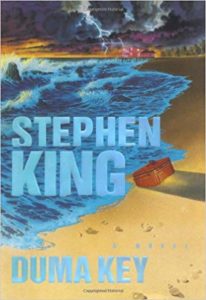 Something I really appreciate about King's books is that he'll craft a novel using one aspect of literature. For instance, in 2008 he wrote a character-driven novel (Duma Key) and then in 2009 he wrote a book that is almost entirely plot-driven (Under the Dome).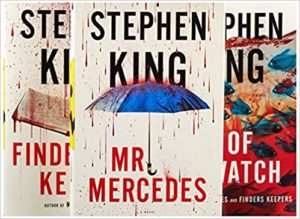 In his Bill Hodges Trilogy, he opened each book with the exact same scene but from a different character's point of view. And in Dr. Sleep, the protagonist and the antagonist have diametrically opposing goals that are truly life or death.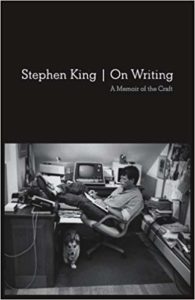 Mr. King has also written books for writers. His famous how-to book, On Writing, is part autobiographical and part writing advice. Ask any author what their favorite how-to book is and nine times out of ten they'll say it's this one. Another primer for writers is King's The Bazaar of Bad Dreams in which he prefaces each story with a page or two about its inspiration. This is a fascinating look into his writing process.
Just in time for this newsletter Rolling Stone announced that Stephen and Tabitha King's home in Bangor Maine will become a historical archive and writing retreat–open to five writers at a time. I definitely have to get my name on that list. Who wants to join me?
Do you read novels by Stephen King? If so, let me know your favorite!
Many thanks!
To Liz Fox and her students at Oak Park and River Forest High School for reading The Devil Particle manuscript and giving me incredibly valuable feedback! It was a pleasure to meet and work with you. I look forward to reading your own books someday.
Where you can find me this fall:
Edgerton Sterling North Book & Film Festival – Saturday, October 26th, 2019, 9 a.m. – 4 p.m. Book Fair, Edgerton, Wisconsin. I'll be on hand to talk about and sign Carpe Diem, Illinois and God on Mayhem Street. The audiobooks will also be available. An added bonus for authors–there's an incredible author reception the night before. Can't wait!
Southeast Wisconsin Festival of Books Saturday, Nov. 2, 2019, 1 – 4,1500 N. University, Waukesha. I'll be at this wonderful event to sign Carpe Diem, Illinois and God on Mayhem Street and discuss all things writing. The audiobooks will also be available.