Knowing that reading is crucial to good writing, I thought I'd read enough dystopian novels to write a good dystopian myself. For instance, I've read The Hunger Games trilogy, The Divergent Series, The City of Ember, The Giver, and Wool. I've also read Shirley Jackson's short story "The Lottery" and Margaret Atwood's The Handmaid's Tale. Fahrenheit 451  inspired me to write Carpe Diem, Illinois and I can't tell you how many times I've watched The Matrix.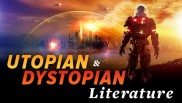 Then I stumbled upon Professor Pamela Bedore's "Great Utopian and Dystopian Works of Literature" Great Courses lecture and realized I haven't even scratched the surface.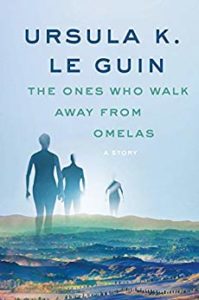 If you're interested in learning about utopians and dystopians, I highly recommend Prof. Bedore's entertaining course which begins with Ursula K. Le Guin's brilliant 1973 short story "The Ones Who Walk Away From Omelas" — the structure of which I now see in so many modern dystopian stories including my own work-in-progress.
Professor Bedore then leads the viewer through a chronology of utopians and dystopians, starting with Sir Thomas More's book Utopia and ending with glimpses into the TV series The Black Mirror (fair warning — it's difficult to watch). The sheer number of books, short stories, and movies she mentions is mind-blowing.
So, as you might guess, I've been tackling her recommended reading list. I've just scratched the surface, but this is what I've read so far: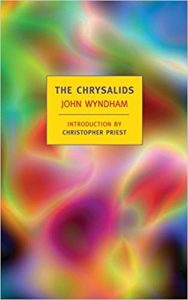 The Chrysalids by John Wyndham – this story takes place in a highly restrictive community hellbent on purity in all things. Crops, livestock, and even babies who are born with any abnormality, which happens with surprising frequency, are destroyed. The characters don't know how or why things have progressed to this point, but the reader begins to understand. This dramatic irony, knowing more than the characters do, is what, for me, makes this book so incredible.
The big three dystopians We, Brave New World, and Nineteen Eighty-four: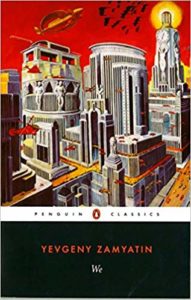 We is written by Yevgeny Zamyatin and translated by Clarence Brown. Kurt Vonnegut admitted that when writing his first novel, Player Piano, in 1952, he "cheerfully ripped off the plot of Brave New World, whose plot had been cheerfully ripped off from Yevgeny Zamyatin's We". It's easy to see why this 1920s book influenced Vonnegut, Aldous Huxley, and even George Orwell. However, the victimhood of the main character turned me off.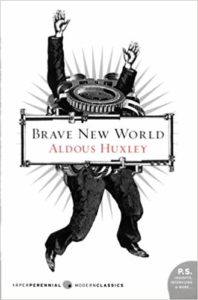 I had assumed that I'd read Aldous Huxley's Brave New World in school (wasn't it required reading?), but it didn't take long for me to realize that I hadn't read it — this is definitely a book I would have remembered reading. It's obvious why the book has been banned from schools, probably from mine as well. Huxley's comparison of the supposed utopia of World State to the Savage Reservation and illustration of how cultural perception can distort morals and values are particularly interesting.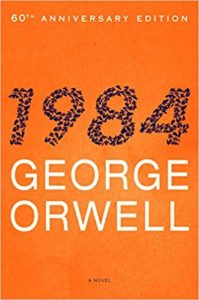 The only thing I remembered about reading George Orwell's Nineteen Eighty-Four in high school was how boring it was. As I re-read it now, I understand where my teenage self was coming from — it can get wordy — but my adult self is horrified by the control of the Thought Police and the telescreens that see and hear all (can my new Google Nest do that?). When one character gleefully imagines limiting everyone's vocabulary to just 100 words, which, he claims, would eliminate independent thought, the reader/writer in me shutters.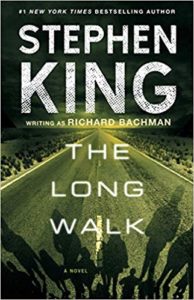 Prof. Bedore mentions Stephen King's book The Long Walk, written in 1974 under the pen name Richard Bachman, as the first novel that used reality TV. Yahoo — a King book I hadn't read! In typical King fashion, the characters are memorable and the pace is brisk. Also, in typical King fashion, this book is not for the faint of heart. I wonder if King was influenced by Shirley Jackson's The Lottery as both stories fail to explain why these killing rituals take place in rural America.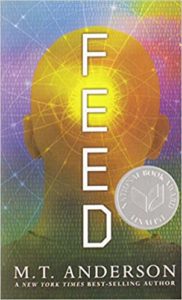 After I finish Nineteen Eighty-Four, I'll read Feed by M.T. Anderson and his The Astonishing Life of Octavian Nothing, Traitor to the Nation. Then Margaret Atwood's Oryx and Crake, Richard Bachman's (Stephen King's) The Running Man, Octavia E. Butler's Bloodchild and Other Stories, Ally Condie's Matched, Samuel R. Delany's Babel-17, and Cory Doctorow's Little Brother.
I'll still feel like I'm just scratching the surface, but it's a start!
Writing Conferences this spring:
March 21-22, 2020 – Let's Just Write: An Uncommon Writer's Conference. At the beautiful Warwick Allerton Hotel in downtown Chicago. I'm giving a workshop on the benefits of critiquing and hosting the live lit event. Join me, Jacquelyn Mitchard, Ann Garvin, Tim Storm, Elizabeth Berg, and many others for an incredible weekend. Registration now open!
March 26-29, 2020 – UW-Madison's Writers' Institute – my favorite weekend of the year – I'm running the bookstore and helping writers practice their agent pitches. Registration now open!