My daughters and I take one big trip together every year. This year we went to San Francisco and Napa Valley — we just got back on last Monday! We're huge bibliophiles so we manage to sneak in a stop at a bookstore, library, or an author's favorite haunt during our travels. While in California, we visited two incredible bookstores which got me thinking, why don't I create a list of my top ten bookstores? So here it is, starting with our two most recent stops.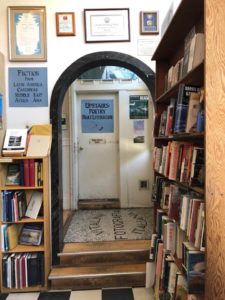 Top Ten Independent Bookstores:
10. City Lights Bookseller & Publishers – A Literary Meetingplace since 1953 – San Francisco, California – The nation's first all-paperback store was a hangout for the beatnik anti-authoritarianism generation of the 50s and 60s. It has several floors of books crammed in nooks and crannies. I bought Christopher Moore's Noir which takes place in San Francisco — not exactly a countercultural book, but whole a lot of fun.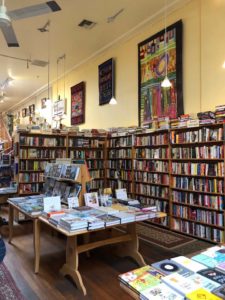 9. Levin & Company Community Booksellers – Healdsburg, California. This beautiful store includes an art gallery which showcases local artists. It's also right around the corner from LIOCO and Banshee, two of the many wine tasting rooms on the town square, and kiddie-corner from another wonderful bookstore. I just might have to retire to Healdsburg!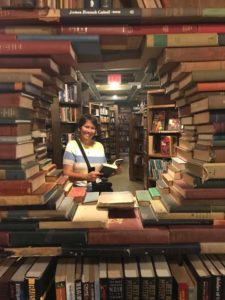 And one more in California:
8. The Last Bookstore in Los Angeles. It's huge, the largest bookstore in California, but feels intimate with comfortable armchairs scattered throughout the store. There's a  second-floor balcony where artists rent out lofts. Each loft has glass walls allowing you to see the artwork and the materials and tools the artists use. If you're lucky, you'll catch a weaver, potter, or painter in the midst of creating.
At the other side of the country: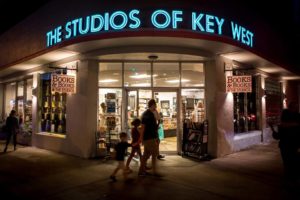 7. Books & Books @ The Studios of Key West – Key West, Florida. This bookstore is part of The Studios of Key West, a non-profit arts center and cultural organization. It was founded by George Cooper and his wife, Author Judy Blume. After touring Hemingway's house and petting one of the six-toed cats, be sure to stop by this amazing place.
Out of the country: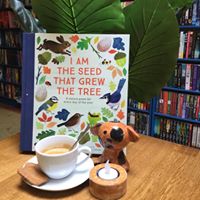 6. The Treasure Trove – Tervuren, Belgium – when my daughters were 10 and 7, we lived in Belgium for 15 months and discovered this sweet little bookstore devoted to children's books. It was here that we bought the Harry Potter Series on audio (cassette tapes back then) narrated by Jim Dale. If you haven't heard Mr. Dale's interpretation of the books, you haven't fully experienced J.K. Rowling's stories.
5. Hodges & Figgis – Dublin, Ireland – Ireland's oldest bookstore, this shop was established in 1768. If you've fallen in love with Ireland as we have, you'll want to stop by; they have the largest selection of books about Ireland in the world.
In Illinois: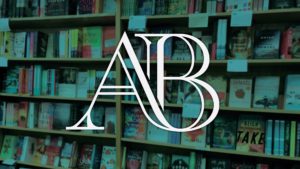 4. Anderson's Bookshop – Naperville, Illinois – Owner Becky Anderson brings in some big names. I've seen Robert Crais (Elvis Cole series) at the book store and Stephen and Owen King at North Central College hosted by Anderson's. Be sure to check out their events calendar!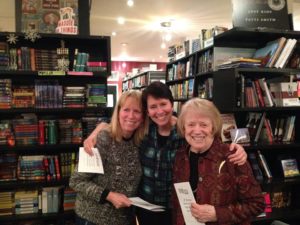 3. The Book Cellar – Lincoln Square, Chicago, Illinois – this bookstore has a special place in my heart. They host the Chicago Writers Association's Annual Book of the Year Awards Celebration and I was lucky to be one of the 2014 winners for Carpe Diem, Illinois (here I am celebrating with my mother and sister). The bookstore also has numerous literary events like their local author night and poetry pentathlon.
In Wisconsin: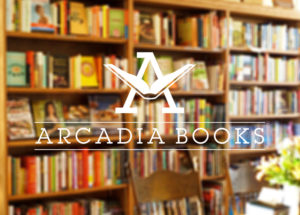 2. Arcadia Books – Spring Green, Wisconsin. This charming bookstore also has a well-renowned cafe. Be sure to stop by here before you go to a world-class performance at the American Players Theatre. And right down the street, you can grab a drink and a show at The Jefferson owned by my friend Rob Doyle, the actor who performed the Carpe Diem, Illinois and God on Mayhem Street audiobooks.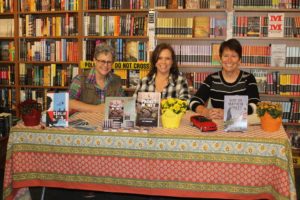 1. Mystery to Me – Madison, Wisconsin – this is hands-down the best bookstore in Madison. Shop owner Joanne Berg is devoted to the local community and local authors. I've participated in author slams and have had several book signings there, including this one with Authors Kathleen Tresemer and Mary Lamphere. It's the perfect venue for book lovers!
Okay, there you have it — my top ten favorite bookstores. What are your favorites? Let me know!
Where I'll be this fall:

Dog Sitting/Writing Retreat
– October 4th – 8th, 2019. Yep, I get to hang out with these two cuties. I'm staying in their house in Edgerton, Wisconsin, just down the road from Lake Koshkonong (we might have to go canoeing). In between walks, playtimes, and snuggling, I'll write the third book my 
Devil Particle Trilogy.