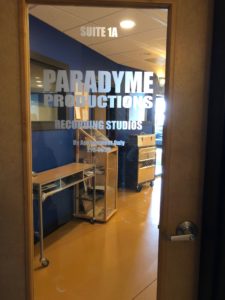 For the last few years, I've wanted to create audio books of Carpe Diem, Illinois and God on Mayhem Street so when Author Christine Keleny told me she recorded her books through Paradyme Productions, right here in Madison, I knew I had my chance. I visited Jake Johnson at Paradyme and was immediately impressed with their operation and decided to hire them.
I had the studio, I just needed an actor and I knew where to look — American Players Theatre in Spring Green, Wisconsin.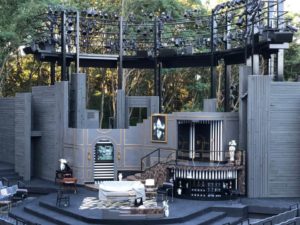 My family has been going to performances at APT since the very first show in 1980. It's truly a magical place where gifted actors showcase their work under the stars. But the actors are busy people — finding a time for them to record my books was difficult. I enlisted Carrie Van Hallgren, APT's managing director, to help. Carrie suggested Rob Doyle, who was just completing the Door Shakespeare season in Door County. He was available and excited to read!
On September 4th, Rob and I met at Paradyme Productions. When he started reading "On the corner of Tiger Whip Road and Highway 20, Patrick Holden slumped over the handle bars of his idling Harley" I teared up. It's incredible when a professional actor reads your characters into life. Now, more than ever, Leo, Patrick, Tali, and Quinn seem like real people to me.
I've read those words out loud myself dozens of times at book events, but this wasn't the same. Often, Justin Hind, the audio engineer, and I would glance through the sound booth window to confirm Rob was alone in there. How on earth was he creating male and female, young and old voices?
For instance, here's a short sample of Rob performing Senator Christopher Shaw, the narrator, and teenager Tali Shaw:
And here's how Rob explains his process:
Bringing the characters of Carpe Diem, Illinois to life in a wholly auditory setting was a challenge that I had an absolute blast doing! Through my background in acting, I've studied the voice at great lengths: what it can do, how it can change, etc…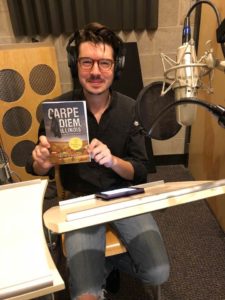 I used some basic vocal techniques that actors use all the time to create different characters on stage or on film. For example: The first step I took was to pinpoint where each character resonated from – whether it be deep in their belly like John Holden and Chief Billiot, or in the higher resonators like the "mask" – the nasal resonators for Quinn and up in the forehead for Tali.
The next step (because what if two characters in a scene resonate from the same place?) was to create a defined tone through dynamic clipping or vowel elongation and musicality for each person. Leo Townsend and Christopher Shaw resonate from the same place (throughout the entirety of their chest) but we can tell Leo's voice apart from Senator Shaw's because while Leo elongates his vowels making his tone "silky", the Senator's speech is much more clipped and musical (I call it the classic politician tone).
After these patterns were well defined, we inserted little details like the younger characters' and older characters' pronunciation of words like either/neither. The adults went with "AYE-ther/ nAYE-ther" whereas the younger characters spoke them "EE-ther/ nEE-ther".
I hope listeners will have as much fun hearing it as I did recording it! – Rob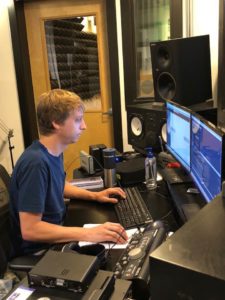 While Rob read Carpe Diem, Illinois from my Kindle (the sound system picks up everything, even pages turning), Justin and I followed along in our paper copies to make sure Rob read the correct words. A few times I preferred Rob's words instead, so we left them as is. Justin also listened for any slurred sounds or stutters. I played director a few times, for instance explaining that Mary wasn't mad at Leo, but teasing him, and so she needed a lilt to her voice.
We looked up native American and Italian pronunciations, Rob's Italian was flawless, and decided when he should sing Leo's "I Shot the Sheriff" ring tone and when it wasn't necessary.
I cringed when Rob had to read a sentence that contained a lot of alliterations like: "The prosecutor tapped her pink manicured fingernails on her pad of paper." After that sentence, Rob treated us to the incredible tongue twisters he uses to warm up and repeated one in Leo's voice. Additionally, there were certain words that were Rob's Achilles heel, particularly "Smithson", which led to some funny bloopers.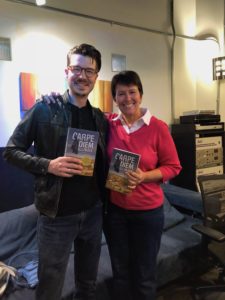 Monday we finished recording and I've been in serious withdrawal all week. Justin is working on the edits, including a blooper reel with Rob's tongue twisters and Smithson stutters. Once that's complete, Paradyme will send Rob and me the proof. After we approve it, we'll upload it to Amazon's ACX site and you'll be able to buy it through Audible. There will also be CDs available for purchase. I'll let you know when.
And come the first week of October, Rob performs God on Mayhem Street. I can't wait!
If you're an author and would like more detailed information about turning your book into an audio book, don't hesitate to contact me.
Where you can find me this fall: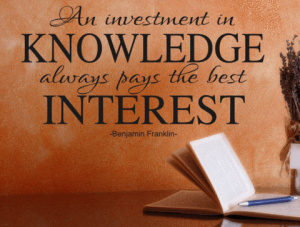 Wisconsin Writers Association Fall Conference, September 21st – 22nd, Brookfield, WI – This time around I get to be an attendee and learn from the best: Christine DeSmet, Valerie Biel, Marshall Cook, and many more.
Storm Writing Retreat, September 26th – 30th, Cambridge, WI – writers Tricia Wagner, Sandra Nichols and I will have four days of writing bliss. Morning workshops with Instructor Tim Storm; afternoons and evenings for writing, brainstorming, reading, eating, drinking, and lively discussions about what our characters are up to.
Paradyme Productions, October 1st – 5th. I'll be back at the recording studio with Rob Doyle and Justin Hind recording God on Mayhem Street!
Write On Conference, October 8th, Zion-Benton Public Library, 2400 Gabriel Avenue, Zion, IL. I'm offering my workshop "The Formula for Setting that Agents, Editors, and Readers Love".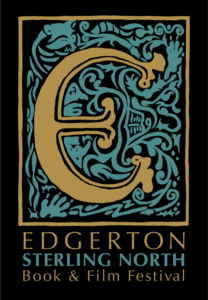 Book Club, October 18th, in Madison at the home of my mother's good friend, Darlene Olson. We'll discuss all things Carpe Diem, Illinois. 
Edgerton Sterling North Book and Film Festival, October 27th at the Edgerton WI Tri-County Community Center, 112 Swift Street, Edgerton, WI. I'll be selling and signing books from 9:00 a.m. to 4 p.m. Hope to see you there!