For me, one of the things that makes a good novel a great novel is when the author has done her research. Currently, I'm reading The Immortalists by Madisonian Chloe Benjamin. Her description of San Francisco in the late 70s/early 80s brought back vivid memories of that time. I'd forgotten we'd called it "the gay cancer" before we knew it was AIDS. And in David Mitchell's The Bone Clocks, I can smell the fear as his character sneaks through checkpoints to report on the Iraq War. I'm amazed at the amount of research that went into these books.
In Gaige Devlin, my current work-in-progress, my protagonist escapes to the wilderness so I'll do the same. Yesterday afternoon, I laced up my brand-new hiking boots and walked East Towne Mall in search of wool socks and polyester clothing that wicks moisture. Dick's Sporting Goods had the socks and JC Penney the clothes, but I was really pleased with my comfortable boots, especially since I leave on Thursday and now I won't have to worry about bloody blisters.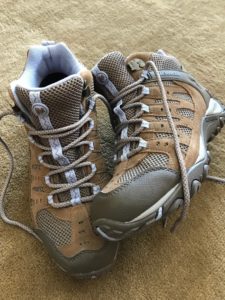 This weekend, I'm joining seven other women on an Explorer Chick adventure. Here are the details:
Nestled in Catawba, VA lies three of the Appalachian's Trail's most scenic gems: Dragon's Tooth, McAfee Knob, and Tinker Cliffs known collectively as the Triple Crown of Virginia. Catawba is also home to the Mountain Shepherd Wilderness Survival School. Hike along the AT to enjoy the views from all three and learn wilderness survival skills on this 4 day women only, small group adventure.
Wake early to catch the sunrise from the most photographed spot on the AT, McAfee's Knob. Trek through Scorched Earth Gap and peer down at Murder Hole to reach Tinker Cliffs. Rock scramble to climb to the top of Cove Mountain and the giant rock monolith that gives Dragon's Tooth its name.
Each afternoon, you'll learn wilderness survival tactics from the Mountain Shepherd School based on the Seven Priorities of Survival in an interactive outdoor setting. The seven priorities include positive mental attitude, wilderness first aid, shelter, fire craft, signaling, water, and food. By the end of your trip, you'll know how to cope with psychological stresses, treat injuries, tie knots and lashings, improvise shelters, start and maintain a knee-high fire in the pouring rain, effectively communicate to rescuers, find and purify water, and understand how to procure food. You can even munch on a few bugs!
I'm looking forward to hiking through Dragon's Tooth, taking in the sunrise at McAfee's Knob, and learning survival skills that my protagonist already knows, but do I have to eat bugs?! It's bound to be quite an adventure for this city girl who thinks roughing it means having to drink Diet Coke instead of Diet Pepsi. If you don't hear from me in two weeks, you'll know I was a slow learner.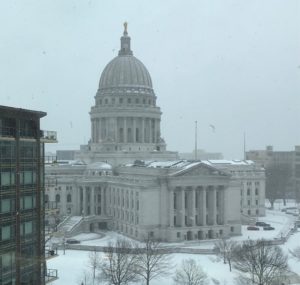 Last weekend was the 29th Annual UW-Madison's Writers' Institute — always my favorite weekend of the year. This year was no exception–even with the snow. Based upon what I learned, I'll use Laurel Yourke's scene goal outline as I work on the second draft of Gaige Devlin, I'll implement a strategic plan to connect with people every day as described in John DeDakis and John Peragine's networking workshop, and I'll join The Authors Guild because of the benefits that Jane Kinney-Denning described
All day Friday and Saturday afternoon, conference participants practiced their manuscript pitches to me and I was blown away by the creativity — I can't wait to see their ideas in print! And I had many opportunities to connect with old and new friends at the Friday Night Mixer and the Saturday Night Live Lit Event.
I can't wait until the big 30th Anniversary Celebration April 4-7, 2019!
Favorite lines heard at last weekend's UW-Madison's Writers' Institute:
"I just switched the heads." — Nick Chiarkas
"I never saw a pig get on an elevator before." — Kevin Mullen (note: the pig in question was roasted and on a spit)
Where you can find me this spring and summer (assuming I survive Virginia):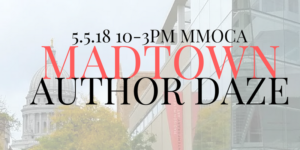 Madtown Author Daze, Saturday, May 5, 2018, 10:00 a.m. – 3:00 p.m., Madison Museum of Modern Art. As one of twenty-six local authors on hand, I'll discuss my books and sell signed copies. Would love to see you there!
Chicago Tribune's Printers Row Lit Fest, June 9th, 2018 from 10:00 a.m to 2:00 p.m. I'll be at the Chicago Writers Association (CWA) Tent selling and signing copies of my books.
UW-Madison's Write-by-the-Lake, June 11 – 15, 2018. Heaven on Earth for writers! I'm offering a workshop on setting and will emcee Open Mic for those brave souls who want to share their work. If you're a writer, be sure to check out this amazing writing retreat.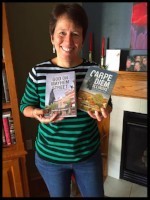 Thank you for reading!