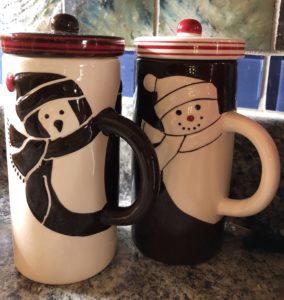 Happy December 21st! I hope you're spending the weekend sipping hot cocoa or mulled wine (Glogg anyone?), while wrapping gifts, baking cookies, or decorating the tree and watching Love Actually (my favorite Christmas movie), It's a Wonderful Life, or Elf. 
If you're also one of the millions who will be battling it out at the grocery store, you might get a kick out of my gift to you this year. It's a short story called "First Trip to the Grocery Store." I wrote it over fifteen years ago when my family and I lived in Belgium. I hope you enjoy it!
First Trip to the Grocery Store
Should I wear jeans? Blue or Black? Damn, none of my tops look European. What's with all the signage on my clothes: "Badgers", "Jamaica, Mon", "North Face"? If not signage than stripes or floral patterns, no stylish solid earth tones. And the weight I'd put on. Maybe I should take up smoking like the rest of the Europeans. Get rid of these stress pounds. Listen to me, "rest of the Europeans." Only been in Belgium a week and already I'm claiming the continent.
I pull out my blue jeans and pair them with my favorite sweater, burgundy with subtle flowers; at least they have earth tones. And what's the big deal? I'm only going to the grocery store. A Flemish grocery store. Now if it were French I might have a fighting chance, but Flemish? Not only is Flemish an obscure language but when it's spoken it sounds like a cat's hacking up a hairball.
I get into my tiny Ford minivan, drive down our long gravel driveway, turn on to Poenaardlaan (pronounced "Poo Knock Lan"), and into town. The minivan is the largest van we could find and the only one with automatic transmission. I don't drive stick and I'm not about to learn how in a foreign country where every three feet there's a traffic sign telling me what to do or not do. Seriously, no peeing along this stretch of the highway? Who peed there so often that they had to put up a sign?
I drive down Brusselsesteenweg and pull into the Delhaize grocery store lot. My miniature minivan is too large for the parking spaces. Why did I worry about my clothes so much? My car, twice the size of any other car in the lot, has "American Excess" written all over it. Breathe. I find a spot in the corner where parking over the lines shouldn't be a big deal. Images of me in a Belgian prison, which of course resembles a Turkish prison, flash through my brain. Well, at least I'd lose those stress pounds.
I walk across the parking lot past Mini Coopers, Smart Cars, and Audis to a row of half-sized shopping carts. I grab one. It resists but not because of a piece of bent metal or sticky gum left behind like I'd find at Cub's but because the cart is chained to its neighbor. How the hell do I get it loose? Then I notice a coin slot demanding 20c euro. And of course, I have no coins in my purse.
Inside the store, the nice young man at the customer service counter who speaks beautiful English with just a slight accent (Flemish? French?) hands me change. I thank him in English. I hadn't yet learned that "Dank U" is "thank you" in Flemish and if I had said "Merci" I might have offended him. The Flemish Belgians and the French Belgians aren't friends and I'm in Overjise, a town in Flanders which is the northwestern part of Belgium, Flemish territory.
Of course the coin jams in the slot, of course, I struggle for the next ten minutes to get the damned cart, until a savior dressed immaculately offers to help. Already sweating and I haven't even started shopping.
Right away I notice that Delhaize is similar to American grocery stores. It's divided into isles based upon food category and has refrigerator and freezer sections. A few American products sprinkled here and there, Coke being predominant, make me homesick.
But the differences are greater. I pick out a bottle of fine wine for two euros yet a six-pack of Diet Coke costs me four. I look for milk but it's not in the refrigerator section, it's on the shelf next to powdered milk. I try to decipher the label and can make out that once it's opened the milk needs to be refrigerated but not before. Really? Eww. I pick it up anyway.
When I look for tortilla chips, I'm floored. At Cub Foods in Freeport, Illinois, there's one entire aisle devoted to junk food. One aisle that's twice as long as this whole Delhaize store. Here, a few bags of chips sit next to some pretzels and un-popped popcorn on a handful of shelves in one corner of the canned goods aisle.
Then there are the wheels of fresh cheeses. Colors I'd never seen before, and I was born in Wisconsin. And the bread. Made fresh daily, which is obvious from the delicious smell. It's up to me to slice it in the automatic slicer. The machine resembles a delicate torture device. I avoid it. There's no prepackaged, processed, chemically-enhanced bread anywhere. I worry that I'll gain two hundred pounds in a month.
Of course, the tricky part for me, this ignorant American, is the metric system. I know how to convert kilometers to miles but how many pints in a liter? How many kilograms per pound? So I guess. I do the same thing when I get to the butcher section and look at the ground meat. Is it hamburger?
I stand in the checkout line, trying to blend in. My cashier asks the checker next to her something in Flemish. Seriously, cats hacking. She turns to the customer ahead of me and speaks to her in fluent French. My turn. "Good morning," she says to me. I haven't said a word. How does she know what language to speak? Did my sweater give me away?
Leaving the store with my purchases in Delhaize take-home bins, I'm relieved to have survived but I also feel inadequate. The cashier speaks three languages, effortlessly, fluently, without hesitation.
That night I fry up the hamburger that doesn't smell in the least like hamburger. I decide not to mention it to my two finicky daughters when I serve them tacos. I know, tacos in Belgium, what was I thinking? Anyway, one taste and we all know it's pork.
On my next trip to Delhaize, I'll take a Flemish dictionary and a conversion chart. They already know I'm American, why not flaunt it?

I hope you have an incredible holiday season.
See you in the new year!
Writing Conferences in 2020:
Writers' conferences make great holiday gifts for the writer in your life! 

March 21-22, 2020 – Let's Just Write: An Uncommon Writer's Conference. At the beautiful Warwick Allerton Hotel in downtown Chicago. I'm giving a workshop on the benefits of critiquing and hosting the live lit event. Join me, Jacquelyn Mitchard, Ann Garvin, Tim Storm, Elizabeth Berg, and many others for an incredible weekend. Registration now open!
March 26-29, 2020 – UW-Madison's Writers' Institute – my favorite weekend of the year – I'm running the bookstore and helping writers practice their agent pitches. Registration now open!