A lot of people don't like New Year's resolutions but I'm not one of them. I like imagining the new year as a fresh page, a fresh beginning, an exciting time of new possibilities. Starting a new year is a great time to evaluate what has worked in the past and what hasn't and to establish new goals.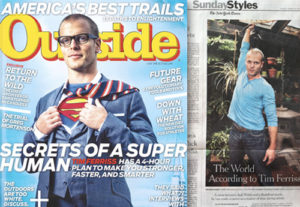 One of my favorite people to follow is Tim Ferriss, bestselling author of "The 4-Hour Workweek" and host of the award-winning podcast "The Tim Ferriss Show". Tim doesn't like new year's resolutions, instead, he suggests making a past year review and listing the positives and negatives and then acting on them. Reviewing 2019 is one of my 2020 resolutions (ha!).
Diet and exercise are high on many people's new year's resolutions list and I'm no exception. I've been practicing yoga every morning for the last week (I follow Yoga with Adrienne on Youtube) and compliment that with walking and more intensive workouts (I use This is Fit Workouts) a few times a week. I'm careful to pick exercises I like to do, things I'll stick with, things that make me feel good.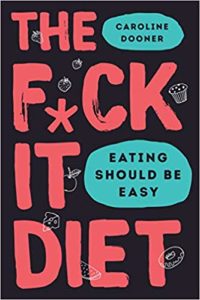 As far as dieting, I'm trying something completely new. Honestly, I've dieted off and on most of my adult life — over 35 years — and I'm tired of it. I don't like feeling guilty or that I've failed because I ate more than 1200 calories or had one too many Christmas cookies. Thankfully, I've stumbled onto Caroline Dooner's The F*ck It Diet: Eating Should be Easy and it's transforming my relationship with food. The plan is to never diet or obsess about food again.
And this year I'm throwing myself into my writing more than ever. I'm being selfish by using the word "no" and refusing to overcommit (thanks Tim Ferriss). With that in mind, here are my writing goals for 2020: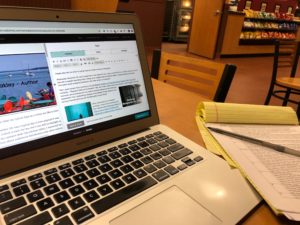 Spend four hours a day writing, editing, researching, reading, and/or querying agents. Spend one hour a day marketing. Right now, I'm in the learning phase. For me, this is the most painful part of being an author. But I'm determined to learn how to market my work and build my audience.
In January, plot the whole Devil Particle Trilogy and draft the third book. March deadline — email a manuscript to my editor, Tim Storm. Which manuscript? I'm not sure, but I will definitely send him something.
Publish the first book in The Devil Particle Trilogy by the end of this year. Publish the second book  4-6 months later, and the last one 4-6 months after that.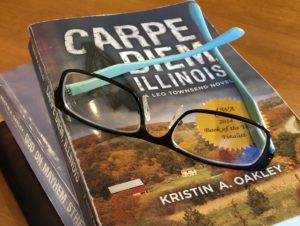 And then back to Leo — he's been bugging me. I'd also like to get back to writing short stories and submit them to journals and contests. I'm thinking of starting a blog on unschooling to tie in with Carpe Diem, Illinois. Again, this goes back to my commitment to marketing and it would be nice to connect with the homeschooling community again.
I'd like to explore writing workshops, lectures, conferences (the one in Hawaii looks particularly awesome). After the Let's Just Write! Chicago Writers Conference and UW-Madison's Writers' Institute (both in March), I might join a critique group. It's been a while since I was part of a group and I have found them to be invaluable.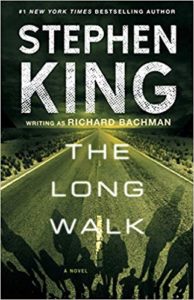 I'd like to read at least two novels and one book on the craft of writing each month. The first novel of 2020 — The Long Walk by Richard Bachman aka Stephen King.
And finally, I plan on getting back to oil painting this year and I have three paintings in mind. Okay, this is not a writing-related goal, but definitely a creative one. I've also found that taking a break from writing to paint helps stimulate all kinds of ideas. And in this mode, I'd like to sign up for The Sketchbook Project and fill my book with scenes from the first chapter of Carpe Diem, Illinois.
Did I mention that after the conferences in March I'm driving down to Texas in April for a week or two, my future son-in-law and nephew are both graduating from UW in May, and my daughter's getting married in August? Okay, so I may be overdoing it in the goals/resolutions department but I love having something to shoot for.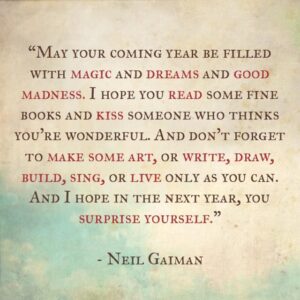 What are your resolutions for 2020? Let me know.
Writing Conferences this spring:
March 21-22, 2020 – Let's Just Write: An Uncommon Writer's Conference. At the beautiful Warwick Allerton Hotel in downtown Chicago. I'm giving a workshop on the benefits of critiquing and hosting the live lit event. Join me, Jacquelyn Mitchard, Ann Garvin, Tim Storm, Elizabeth Berg, and many others for an incredible weekend. Registration now open!
March 26-29, 2020 – UW-Madison's Writers' Institute – my favorite weekend of the year – I'm running the bookstore and helping writers practice their agent pitches. Registration now open!