I'm addicted to story, particularly this time of year when the Academy Awards roll around (this Sunday!). I try to see all the movies nominated for best picture because I love good cinema and I might win some cash — my niece puts together the most amazing Oscar parties!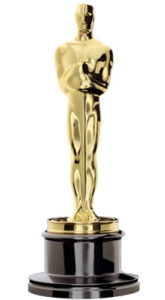 This year I watched all the nominated movies. I know a lot of politics goes into the selection process, but they've come up with some amazing films. I appreciated the cinematography. As my mom said when she accompanied me to Phantom Thread, "I guess I haven't been to a movie in awhile. The photography is incredible." I appreciated the acting; Gary Oldman becomes Churchill in The Darkest Hour. I appreciated the music, particularly the continually tense notes in Phantom Thread and the sweet song Mystery of Love by Sufjan Stevens in Call Me by Your Name. And then there's the beautiful costumes, the seamless make-up, the editing, sound mixing, and so much more.
But I watch movies for the writing.
My daughters and I had the opportunity to spend 10 days in LA last summer. One afternoon, we shopped in the souvenir stores on Hollywood Boulevard. They were stocked with coffee mugs and t-shirts stenciled with "Director", "Actor," "Actress", "Producer", and "Editor", but no "Writer". Incensed, I said, "Don't they realize that without the writers there would be no Hollywood?" We managed to fit in tours of Universal Studios, Warner Brothers, and Sony Pictures. After the Sony Pictures tour we browsed through the gift shop and I found this: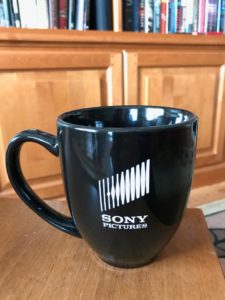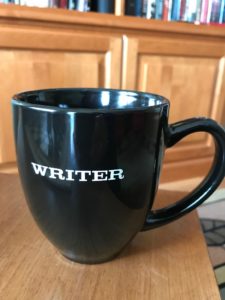 Yahoo for Sony Pictures!
So what makes the writing in this year's Oscar-nominated pictures so good? Here's a sneak peak at my take on the stories (without too many spoilers):
Two pictures study the same point in history but apply different story structure. Dunkirk and The Darkest Hour  both deal with the battle at Dunkirk, France during World War II, but Dunkirk is a plot-driven movie with little-to-no character development. The result, at least for me, was that I felt as if I were experiencing that battle first-hand. Of course, the incredible cinematography and sound-editing helped. Conversely, The Darkest Hour is completely character-driven. We live with Winston Churchill for a couple of weeks while he struggles with deciding between surrendering to Hitler or fighting him. You can feel his resolve when he shouts "we will never surrender!" while delivering one of the most famous speeches of all time.
Two pictures are coming-of-age stories. Lady Bird  highlights how ego-centric eighteen-year-olds can be, blind to the anguish of those around them. It does this through the eyes of the teenager, giving the audience the feeling that she's justified until reality hits and we experience that egotism of youth all over again. Call Me By Your Name deals with a young man's homosexual awakening. A poignant and very sensual story which the writer set in the 1980s to increase the stakes.
Both The Shape of Water and Phantom Thread deal with unusual relationships and how the characters manage to make them work. The Shape of Water is great at revealing character (nothing but Key Lime Pie in the refrigerator). It's also a genre-bending story (is it sci-fi? romance? fantasy? All of these?) and an historical piece that hints at the era but never nails it down. Phantom Thread's complicated characters create a solution for their strange relationship that's completely unexpected.
Only six horror movies have been nominated for best pictures, Get Out being the current one. This is creative horror at it's best, a wonderful twist on . . . well, I don't want to spoil it for you.
You might think that my favorite film would be The Post— the First Amendment championing movie. I did enjoy it, but felt that the development of Katharine Graham's character fell flat even though Meryl Streep does a beautiful job of portraying her.
Three Billboards Outside Ebbing, Missouri shows characters at their worst while still making them human. Mildred, the main character portrayed by Frances McDormand, judges everyone else's actions while not realizing the effects of her own. This comes to light when she treats her date as an embarrassment and he calls her on it. And bad-cop Jason Dixon . . . well, again, no spoilers.
My pick for best movie? This might be the first year I don't have a favorite. With the exception of The Post, I'd be happy if any of them win. Do you have a favorite? Let me know!
Now I'm off to shop for my niece's party. We're each given a list of ingredients that are movie-related clues. Can you figure out why these items are on my list?
White/beige colored hummus (3 packages, all the same flavor
1 yellow, 1 green, 1 red, 1 orange pepper
1 cucumber
black olives
1 red onion
2 radishes
1 single green bean
1 big carrot (or a few mini ones)
whole almonds
blue corn tortilla chips
Look for my next newsletter (now every two weeks) for the answers. And enjoy the Oscars!
Where you can find me when I'm not at the movies: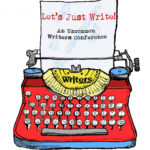 Let's Just Write! An Uncommon Writers Conference, Saturday, March 10th – Sunday, March 11th, Whitehall Hotel, 105 East Delaware Place, Chicago (one block from Michigan Avenue). I'm volunteering for the Chicago Writers Association's first writers conference.


UW-Madison Writers' Institute Pathway to Publication, April 12-15, 2018. I'll be busy helping writers practice their pitches to agents, running the Book Fair, and, together with Book Doctor Kevin Mullen, hosting the Live Lit Event.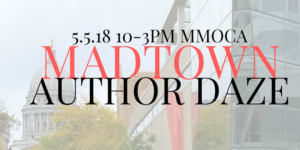 Madtown Author Daze, Saturday, May 5, 10:00 a.m. – 3:00 p.m., Madison Museum of Modern Art. As one of twenty-six local authors on hand, I'll discuss my books and sell signed copies. Would love to see you there!
Thank you for reading!