Thursday, Actor Rob Doyle, Engineer Justin Hind, and I finished recording God on Mayhem Street. Friday, we completed the final edits for Carpe Diem, Illinois. (Both audiobooks will be released soon — I'll let you know when!) It's been an incredible experience and a hell of a lot of fun.

We met from 9:30 a.m. – 2:00 p.m. in the Paradyme Productions Studio. Rob, set up in the sound-proof booth with headphones and microphone, would read a chapter using my Kindle, correcting himself along the way. Justin sat at his computer noting Rob's corrections and those words or phrases that needed adjustments. He and I followed along in the paperbacks and took notes. Once Rob finished reading a chapter, we'd review the pages and have Rob make corrections.
Here are a few things I learned along the way:
Because of the MP3 revolution, one CD can hold an entire book. This greatly reduces production costs so I'm excited to offer the Audible version and CDs!
I found out that I like writing alliterations. That makes for some tricky phrases like this one in God on Mayhem Street:  "Eddie picked a piece of pepperoni off his pizza." Luckily, Rob's an expert at tongue-twisters:
We discovered that recording characters' thoughts can be complicated. On the written page, thoughts are easily identifiable to readers, particularly when they're in italics like this passage from God on Mayhem Street:
She laughed. "It's a pub on North Frances, about a half mile from Madison General."
Not too far from the hospital but far enough away from the news hounds. "Sounds good. See you there."
In many passages, Rob used his narrator's voice to avoid confusion. In this case, Rob spoke in Leo's voice and added "Leo thought" just to be clear.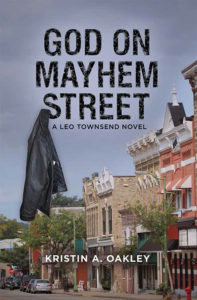 When recording a book, the actor, engineer, and author work as a team and Rob, Justin, and I made a good one:
Rob was expert in creating voices and switching between them even in those scenes that had multiple characters. One scene had five different female voices and he mastered them all. He also evoked emotions that were poignant and true to the characters.
Justin recorded Rob, paying close attention to slips of the tongue and stutters, and was brilliant at editing. And, as he became invested in the story, he added his interpretations of how the characters would behave and helped me with directing Rob. He's also putting together a funny blooper reel which I can't wait to hear.
As the author, I explained the motivations of my characters and became the director. What amazed me was when I gave a direction, Rob corrected the passage so that it was exactly how I envisioned it in my head.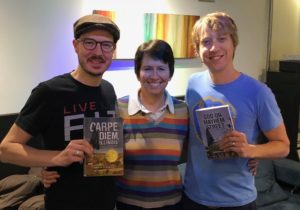 Having my books read by a professional actor is an incredibly emotional experience — something that's hard to put into words. It's been four years since Carpe Diem, Illinois was released and two years since the release of God on Mayhem Street and I've learned a lot about writing since then. Certainly, I'd write a few sections of the books differently now, but I'm pleased with the characters, mysteries, and intrigue and proud that these stories are so gripping.
I can't wait for you to hear them!
Rob, Justin, and I have been discussing which actors should play which roles in the motion pictures. Of course, Rob should be Leo. And when I recently met Jim DeVita, another American Players Theatre actor, I suggested he play Jacob Landry. Rob pictures Jeff Bridges for John Holden; Justin thinks Sam Elliot. Which actors would you like to see star in the movies? Let me know!
If you'd like to see and hear more about the recording process, check out my Facebook Page and be sure to join Rob Doyle and me at my Audio Books Release Party on November 2nd — see below for more details.
An Apology
I've sent many of you the plain text version of my newsletters, rather than the HTML which means you've missed out on photos, videos, and links. I'm so sorry! From now on, you'll get the full version, I promise. To see previous newsletters in their complete form, check the newsletter archives on my website.
Where you can find me this fall:
Author Meet and Greet with Sue Rovens: check out my written interview — it's live now!
The Authors Show, October 17th. Scroll down to find my name and click on Carpe Diem, Illinois to hear my interview: https://wndnetworkwest.com/. 

Book Club, Thursday, October 18th at the house of my mother's good friend, Darlene Olson. We'll discuss all things Carpe Diem, Illinois. 

Edgerton Sterling North Book and Film Festival, October 27th at the Edgerton, Wisconsin Tri-County Community Center, 112 Swift Street. I'll be selling and signing books from 9:00 a.m. to 4:00 p.m. Hope to see you there!
And you're invited to my: