People often ask me what my typical day as a writer is like so here goes:
Wednesday, November 7th was a typical day in how atypical it was. I got up around 6:15 a.m. (which is early for me, but I was still on daylight spendings time). Sitting at my upstairs desk (the kitchen table), I answered emails and shared information about audiobook distribution with other writers on Facebook.
Then I spent several hours working on my UW-Madison Division of Continuing Studies Weekend With Your Novel workshop — "Research Skills for the Novelist". Yep, even fiction writers have to do research. I pulled together examples, resources, and anecdotes from my various research adventures like hiking the Appalachian Trail, handcuffing a stranger at the Writers' Police Academy, and touring a haunted jailhouse with the Marquette County Sheriff.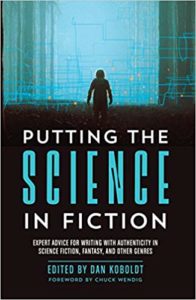 While researching for my research workshop, I discovered a great book by Dan Koboldt called Putting the Science in Fiction: Expert Advise for Writing with Authenticity in Science Fiction, Fantasy, & Other Genres. The book, a fascinating read, debunks scientific myths perpetuated in literature. Unfortunately, I wrote one of those myths in my current draft of The Devil Particle so I knew I'd be busy brainstorming new ideas in the afternoon.
After lunch, Jessica, my costume-designing daughter, needed a ride to the Madison Theatre Guild's costume shop on Monroe Street. We listened to Artemis by Andy Weir in the car (second time for me, first time for Jessica) and worried that Jazz, Weir's protagonist, might blow herself up.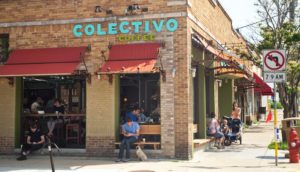 Instead of driving home after dropping Jessica off, I settled in at Colectivo Coffee a few blocks down and brainstormed ideas that would hold up under scientific scrutiny–or at least seem plausible. I jotted scenarios, did some research, stretched my imagination, and came up with something that just might work.
After spending a few hours on that, my brain was fried so I decided to take a break and read the finalists' entries for the Chicago Writers Association's First Chapter Contest. As one of the CWA board members, it's my job to select my top three choices. They're always well done and this year is no exception.
By 4:30 p.m., Jessica had collected all the costumes she needed, so I picked her up and went home for a short nap. We ate a quick dinner then got back in the car to head to her play rehearsal on the east side of Madison. Jazz, the protagonist in Artemis, got into even more deep trouble on the way. I dropped Jessica off and then grabbed a hot cocoa at Barnes & Noble and camped out at the food court in East Towne Mall to work on this newsletter.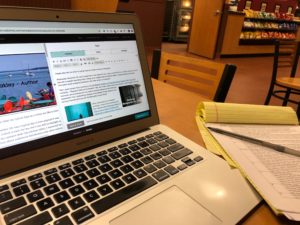 I like that I can work at any time in any place. Noise and people don't bother me. They aren't distracting unless I let my mind wander and try to decide whether the couple seated next to me, stiff and formal, is on a first date or has just been married too long. Making up stories about strangers is a hobby of mine but I try not to procrastinate with it for too long.
At 9 p.m., Jessica texted to let me know she was finished which was good because, at that moment, someone turned the lights off in the mall. No warning announcement. Creepy. I kept picturing dead bodies dropping from the ceiling, probably
because I'd watched The Haunting of Hill House the night before.
Safe in the car, I picked up Jessica and we listened to Jazz bullshit her way out of yet another tough situation in Artemis. At home, I got into bed and read a chapter of A Visit from the Goon Squad by Jennifer Egan and Fight Club by Chuck Palahniuk, amazed at the talent of these writers.
In so many ways each of my days is completely different, but there is one constant — stories. Whether it's working on my novels, creating short stories, reading books or listening to them on tape, watching TV shows or movies, or imagining what mischief my neighbors are up to, I'm always immersed in stories — which is just the way I like it.
Audiobook CDs Available!
They make great stocking stuffers! Get your copies of Carpe Diem, Illinois and God on Mayhem Street today through Little Creek Press.
The books will be available through Audible and other outlets soon. I'll be sure to keep you posted!
Where you can find me this fall:
Listen to my interview with Linda Thompson on The Authors Show anytime.
Read about naming my characters in this guest blog with Valerie Biel.
And, in December, I might be in Beloit for an author fair — I'll keep you posted!